---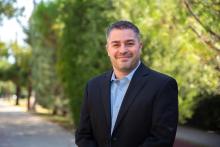 ---
---
Biography
Brant Mullen is a Construction Manager for SHOP Development, assisting the Development team with its construction and tenant coordination needs.
Prior to working at SHOP Companies, Brant served as the Senior Tenant Coordinator for Retail Properties of America's (RPAI) West Division.  There he managed a team of three to oversee the tenant coordination responsibilities for 11.7 Million square feet of retail and office space at 66 Class A properties.  These include such premier assets as Southlake Town Square, Main Street Promenade (Naperville, IL), and Shops at Legacy to name a few.
Additionally, he has worked for The Retail Connection, DFW International Airport, Haydn Cutler Company, and a few architecture firms in Texas, New York, and Florida.
Brant is a graduate from the University of Illinois where he attained his Master of Architecture, as well as the University of Texas at Arlington where he received a Master's degree in Real Estate and a Bachelor's degree in Architecture.
Outside of work, Brant enjoys spending time with his wife and children, extended family, and friends.