---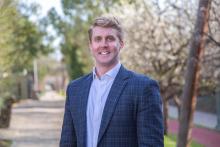 ---
---
Biography
Buck Wheeler is a Vice President at SHOP Development.  Buck assists with all facets of the development process including site selection, acquisition, financial feasibility, marketing, due diligence, entitlement, permit approvals, construction management, asset management, lease negotiations, and public-private partnerships. 
Prior to joining SHOP Development in 2015, Buck served as an associate for Rosebriar Properties where he worked on a 600,000+ square foot portfolio of retail real estate, with a focus on financing, leasing, property management and operations.  Before Buck worked at Rosebriar Properties, he served as an intern for Focus Brands, which is an international franchisor and operator of food service brands.  While at Focus Brands, Buck assisted with marketing and site selection for Schlotzsky's and their initiative to co-brand with convenient stores in the southwest region. 
Buck is a graduate of The University of Mississippi, where he double majored in Managerial Finance and Real Estate.