---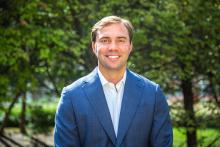 ---
---
Biography
Evan Fichter is an Associate at SHOP Development and assists with all facets of the acquisitions and development process including underwriting, due diligence, finance, asset management, marketing, construction management, lease negotiations, and public-private partnerships.
Prior to joining SHOP Development in 2020, Evan worked in corporate development at a midstream oil and gas company in Houston, TX, and focused on the creation of financial models for investment and development opportunities, daily position reports, and financial forecasting, planning, and analysis. Prior to working in the oil and gas industry, Evan worked at KPMG in Atlanta, GA, on the real estate team. At KPMG, he worked in a co-sourcing role and was an analyst for both KPMG and the client, which has $35B+ in assets under management, focusing on multifamily development and management of properties.
Evan is a licensed CPA and is a graduate of the University of Georgia, where he received his BBA and Master's in Accounting.