---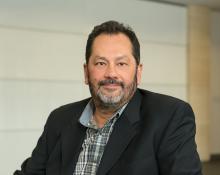 ---
---
Biography
Ray Rodriguez joined SHOP Houston in February 2019, specializing in generating material for marketing and market analysis. Ray is focused on creating the visual tools to serve clients and help brokers bring in new business.
Prior to joining SHOP Companies, Ray gained valuable experience as director of mapping and research, starting with Moody Rambin Retail. Ray played an integral part managing the mapping and GIS department as the company later merged with United Commercial Realty and eventually became Streetwise Retail Advisors.
His introduction to the commercial real estate industry began with Landiscor Aerial Information as an aerial photographer and mapping graphics technician. Ray is a native Texan and has been married to Beverly for 30 years. Together, they enjoy traveling, hiking and spending time with family and friends.