Investment Sales
Victoria Lee
---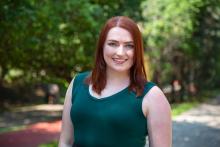 ---
---
Biography
Victoria joined SHOP Companies in May 2021as the Investment Sales Administrative Coordinator. Victoria is responsible for managing marketing campaigns, website management, demographic and appraisal research, and preparations for offering memorandums and broker's opinion of value. Victoria continues to strive to enhance the day-to-day operations of the Investment Sales team.
Victoria's experience in real estate goes back to her administrative work at Good Fulton, & Farrell Architects, where she gained experience in serving the clients through drawing up contracts, applying for construction licenses, and proofing the design proposals sent to clients. She was at GFF for four years. Before then she worked as a student tour guide at Abilene Christian University, giving tours as well as organizing future student events.
On her own time out of the office, Victoria is an actor, dancer, and choreographer in the DFW theatre and film community. Since 2017 she has choreographed nine shows at seven different theatres, three of which were nominated for Column Awards for Best Choreography in 2018-2020. You may even see her on stage or on Amazon Prime in the film Neon Days where she had a supporting role. She loves spending time with family and friends as well as her rescue (and failed foster) kitty, Biscuit.