---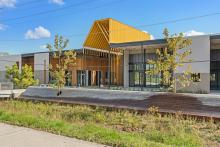 ---
Square Footage
200,000 SF
---
Property Description
M-K-T is a collection of adaptive industrial buildings located in the heart of The Heights- one of Houston's most historic and dynamic neighborhoods. M-K-T is named after the historic Missouri-Kansas-Texas (MKT) railroad line.
This abandoned rail line was transformed into the vibrant MKT Heights Hike and Bike Trail that will form the project's 3-acre linear park. Positioned just off Shepheard and MKT Bike Trail, the project will have 200,000 square feet of transformative retail and office space with 1,000 feet of linear frontage to the trail.
The Heights is among the city's most desirable communities and has been enlivened by avant-garde chefs, artists and merchants. Innovative brands such as Warby Parker, Lululemon, Marine Layer, Mizzen & Main, and Aesop already call this neighborhood home. M-K-T combines the area's affinity for thoughtful architecture and independent brands with unmatched walkability and green spaces.
Our local development team challenged the notion that successful mixed-use projects have to demolish the past. Our partnership is committed to contributing to the neighborhood through restrained scale and distinctive architecture. M-K-T is home to Ray Ban, Sweet Green, La La Land, Mendocino Farms, TAFT, and established locals such as Chloe Dao, Honey Child, and Rolland Keller's Casa Nomad!
---
---
---