Property Name
Miller-Motte College - Tulsa, OK
---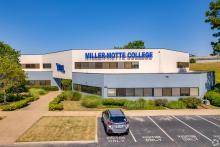 ---
---
---
Property Description
LINK: TEN-X AUCTION BEGINS SEPTEMBER 6TH. 
SHOP Companies is pleased to exclusively offer the opportunity to acquire 3801 S. Sheridan Road in Tulsa, Oklahoma, a 36,590 SF, 2-story single-tenant office building (the "Property") leased to Ancora Education and operating as Miller-Motte College (the "Tenant"). Ancora Education just recently entered into a new 11-year, absolute net lease agreement in February 2022, extending its tenure after having operated at this location since 2008 as Platt College, a trade school brand Ancora Education acquired in 2014.
The Property is situated on 2.02 acres at the northeast corner of the intersection of Interstate 44 and S. Sheridan Road, with approximately 589 feet of frontage along the interstate which carries 93k VPD past the site. The Property is centrally located within the greater Tulsa metro area, with immediate access to both Interstate 44 and the Broken Arrow Expressway (US Highway 64), and roughly equidistant in drive time from both Downtown Tulsa and the Tulsa International Airport.
---
---
---