Property Name
Post Oak Plaza
---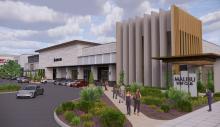 ---
---
Property Description
Post Oak Plaza captures Uptown Houston's urban energy and is located in the middle of a booming metropolis, premier global retail, and over 30M Square Feet of office space.
With a strategic location on every retailer's radar—plus plenty of reasons for customers to return, Post Oak Plaza is undergoing renovations, being redesigned with a new retail mix to give customers, residents, and tourists more options in the heart of Houston's most dense neighborhood.
Post Oak Plaza is about to undergo an extensive re-development to include re-addressed storefront design, parking lot improvements, enhanced landscaping, soft scape placemaking and improved colonnade experience. Improvements are commencing Q1 2022 and expected to complete before end of year. 
---
---
---