Property Name
Southlake Town Square
---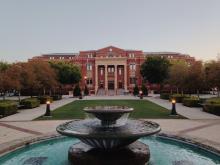 ---
---
Property Description
Southlake Town Square is a 133 acre mixed use project which today contains over 600,000 sf of retail, 250,000 sf of office, 200,000 sf of government and 43 single-family residences. Phase I opened in 1999 with approximately 250,000 sf and has expanded in sequential phases and today consists of 1.4M sf.
Through a carefully chosen selection of national and local Tenants consisting of a multitude of retail, restaurant, office, service and government uses, Southlake Town Square has become both a gathering place for the community as well as a destination for surrounding region.
Retailers include Barnes & Noble, Cheesecake Factory, Apple, Anthropologie, Lululemon, Sephora, Coach, Banana Republic, William Sonoma, Pottery Barn, Fabletics, Athleta, Warby Parker, Travis Mathew, CASPER, 7 for all ManKind, Peloton, Johnny Was, Muchacho, Moxie's, Free People, Tesla, Market by Macy's and more.
---
---
---