Tenant Name
All Day Kitchens
---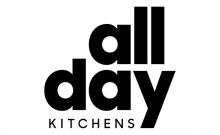 ---
Representation Region
Houston, TX MSA
---
Tenant Description
We care about restaurants and want to make sure they prosper into the future, even as human habits evolve.
So we built All Day. And once we started building, we realized the old way of doing delivery and pick up wasn't just hard on restaurants, it was hard for their diners too. The soggy bags, the missing items, the long wait times, the limited range of our favorite restaurants.
We made it our mission to make digital, delivery, and takeout better – for everyone involved. That's what drives us today.
---
---