Tenant Name
Charming Charlie
---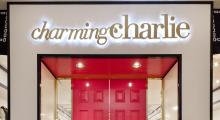 ---
Representation Region
Nationally
---
Site Requirements
5,000 - 10,000 SF
---
Tenant Description
Charming Charlie is a one-of-a-kind source of style that's been inspiring women to live more colorfully since 2004. Known for offering a wide array of women's apparel and fashion accessories, beauty, gifts and more, all ingeniously arranged by color; making that perfect look fun and easy to find.
They believe that when it comes to fashion, if it feels good, do it, and if it looks good, do it in every color it comes in!
Winner of several awards, Charming Charlie is recognized for leading a retail revolution with an awe-inspiring in-store experience of carefully-curated collections, featuring breathtaking volumes of color and something special for every occasion. From the big days to the everyday, Charming Charlie celebrates women and the colorful lives they lead. It's a place where she can bond with her best friends, find unique gifts and discover new treasures that surprise and delight.
---
---