---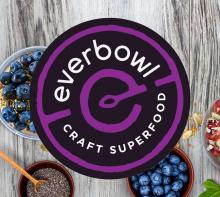 ---
Tenant Description
FUEL FOR MOVEMENT.
At everbowl, we believe the key to life is motion—and the key to motion is food. Well, Superfood to be more precise. Made by nature, it's loaded with stuff that tastes amazing and is actually good for you! We craft Super Food so we can "unevolve," which is our way of saying: to live and eat the way we were meant to—living actively and eating stuff that's been around forever. 
MADE FROM STUFF THAT'S BEEN AROUND FOREVER.
Once upon a time there wasn't a need for words like healthy and natural. Everything was natural and people were generally healthy. That's why we don't make claims of healthy and natural. For us, those are a given. We just make food that's been around since before there were fads and before there were preservatives. What was Superfood then is Super Food now - and we're really happy it already tastes amazing with no sugar added.
---
---