---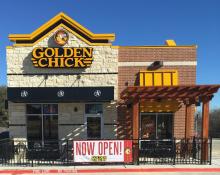 ---
Representation Region
Texas
---
Tenant Description
The very first Golden Fried Chicken was opened by Howard and Jacque Walker in San Marcos Texas on South LBJ Drive. Mr. Walker was a World War II Navy veteran, and Ms. Walker was a graduate of Southwest Texas State University with strong ties to San Marcos. The first location has long since closed and been relocated, but what was started in 1967 by Mr. & Mrs. Walker lives on today.
From the very beginning, what made Golden Fried Chicken special was the made-from-scratch recipes and uncompromising care and marination of every single piece of chicken. The original menu included just Fried Chicken and "English" biscuits … starting at 49¢ for two large pieces of chicken and a biscuit!
With outstanding recipes and a growing fan base, Golden Fried Chicken locations began popping up all over Central Texas. Very quickly, the familiar golden awnings of Golden Fried Chicken were a beloved site in small and mid-sized towns across Texas. From #1 San Marcos to #2 New Braunfels to #3 Georgetown, and so on, many of the original Golden Fried Chick locations still exist across central Texas.
Golden Chick is one of the fastest growing restaurant brands in the U.S. and was recognized as one of the very top brands in the country by Nation's Restaurant News. Big things are planned for the little brand that started in San Marcos back in 1967. If there's not a Golden Chick in your city now, there probably will be soon.
---
---