---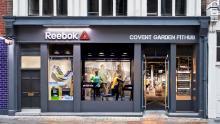 ---
Representation Region
Texas
---
Site Requirements
3,000 - 4,000 SF
---
Tenant Description
Reebok is an American-inspired global brand with a deep heritage in fitness. In fact, their mission is to be the best fitness brand in the world. At Reebok, they know that greatness doesn't come from standing still. Reebok has a long history of pushing boundaries. They are the brand that helped usher in a fitness movement that forever changed the way we look at spandex and headbands. It's not the 1980s anymore but today, Reebok continues to be daring in everything they do. 
As Reebok has transitioned from a traditional sports brand to a brand focused on fitness, they have come to understand one universal truth: That living an active life enables people to be their best selves – physically, mentally and socially.  
At Reebok, they believe that through sport, we have the power to change lives. And their sport is fitness.
---
---