Tenant Name
Taziki's Mediterranean Cafe
---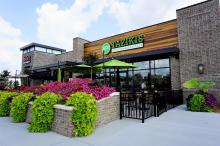 ---
Representation Region
Houston
---
Site Requirements
1,800 - 2,200 SF + Patio
End Cap with Drive-Thru Preferred
High Traffic Intersections
Good Street Visibility & Access
Major Thoroughfares
---
Tenant Description
In 1997 Keith Richards and his wife Amy took a vacation to Greece. There they discovered small-table Mediterranean cafes where everyone in the community gathered together to connect around healthy flavors and to celebrate life. They enjoyed the food, but also observed a deeper kind of warmth and connection that led them to say - "That's what I want to spend my life doing." Inspired, the first Taziki's was born in 1998. Over the years, with the addition of new Taziki's across the country, our brand has become a family of big-hearted foodies committed to making an impact in their communities.
The Greek word Eudaimonia simply means "human flourishing." This is the essence of Taziki's. We believe in sharing the impactful and everyday moments of life over a delicious meal with loved ones which is why you'll find a community table in every one of our restaurants. We put our heart behind everything we do, including the farmers we partner with, because we value the "flourishing" of our customers.
We embrace the Mediterranean lifestyle especially in our diet:  primarily plant-based, healthy oils over butter, using herbs and spice for optimal flavor, limited red meat and enjoying fish and poultry at least twice a week.
---
---