Property Name
Maple Terrace
---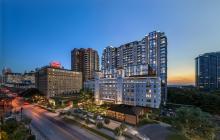 ---
---
Property Description
Poised to be the crown jewel of Dallas' dining scene, the revitalization of the iconic Maple Terrace into a world-class mixed use destination will include the addition of two extremely high-profile restaurant opportunities.
This stretch of Maple Avenue has a longstanding history of DFW's top grossing restaurant sales and represents some of the most coveted blocks of real estate within the trade area. The historic site is prominently positioned in the heart of Uptown and is an effortless stroll from several of the urban core's most highly touted developments including the likes of Harwood District, The Crescent, and Old Parkland.
The latest plans will keep the existing architectural character intact while also melding modern elements to offer a charming escape that cannot be replicated anywhere else is the city.
---
---
---