---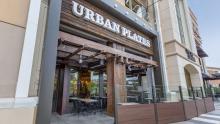 ---
Tenant Description
Urban Plates is like no other restaurant—not because we know something other restaurants don't, but because we're willing to do what they won't. We take the time to make everything from scratch in house every day. We spend more to source the finest sustainably sourced ingredients. We plan our menus around the seasons to ensure every dish is at its freshest, and stand behind every meal we serve.
We do all of these things, and more, not because it's efficient or easy. We do them because it's right, and because we're passionate about the partnerships we form, the guests we serve and the food we make from scratch each day. We prepare every meal for each of our guests like we would for our own family, putting careful thought into what every ingredient brings to each dish. A little spice. A bit of crunch. An antioxidant kick. They all come together to form delicious meals that are better for our bodies, our spirit and our environment. And that makes for a better world.
If you're looking for a restaurant that satisfies your soul as well as your appetite, we're here for you. Urban Plates makes wholesome, clean, craveable food accessible to all. Nutrition is the backbone of your immune system and that system needs to be strong. Now more than ever, how you fuel your body matters. We have: ~ Spacious patios open for dine-in ~ Also offer takeout, curbside, and delivery ~ Have clean, wholesome food for an honest price.
---
---